Step into the world of men's footwear, where the classic brogue takes centre stage. These brogues for men are known for their amazing and unique perforated patterns that give quite an elegant outlook to your overall appearance. So, if you are looking to add these elegant items to your wardrobe, one such platform you should explore that offers amazing brogues for men is New Look!
Type of Brogues for Men Available
1.   Full Brogues
Characterised by their "W" or "wingtip" design, these brogues feature intricate perforations on the toe cap and extend along the sides.
2.   Semi-Brogues
These brogues are slightly less ornate than full brogues, with perforations typically found on the toe cap and along the shoe's edges.
3.   Quarter Brogues
Featuring only minimal perforations on the toe cap, quarter brogues offer a more understated look compared to their counterparts.
4.   Longwing Brogues
Known for their extended wingtip design that stretches to the heel of the shoe, longwing brogues are of a distinctive style.
5.   Brogue Boots
These are brogues for men with a higher ankle, offering both style and additional support.
6.   Casual Brogues
Designed with comfort in mind, casual brogues are perfect for everyday wear, blending classic style with contemporary ease.
Choosing the Right Brogues for Men
1.   Occasion
Determine whether you need brogues for formal events, business settings, casual outings, or specific activities like golf. Different types of brogues are suitable for various occasions.
2.   Type of Brogue
Decide which style suits your needs, whether it's the ornate full brogues, semi-brogues, or more understated options like quarter brogues. Your personal style and the context in which you'll wear them will guide your choice.
3.   Fit
Ensure the brogues fit comfortably. Take into account the width, arch support, and size, and consider trying them on and walking around to check for any discomfort or tightness.
4.   Material
Choose between leather or suede. Leather brogues are classic and durable, while suede offers a more casual and relaxed appearance.
5.   Colour
Opt for versatile colours like brown, black, or tan for easy coordination with your wardrobe. More unique colours can make a statement but might limit pairing options.
6.   Sole
Consider the sole type, leather soles are elegant, while rubber or crepe soles offer comfort and grip, making them suitable for various terrains.
7.   Quality
Invest in well-crafted brogues from reputable brands to ensure longevity. High-quality construction and materials make a significant difference in comfort and durability.
Brogues for Every Occasion
1.   Rust Leather Perforated Lace Up Brogues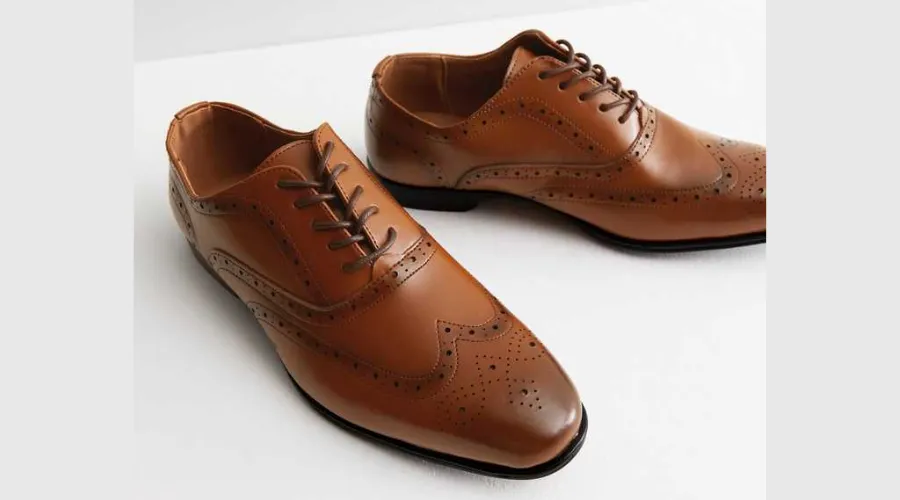 These Rust Leather Brogues for men are a smart choice for your attire. They feature a genuine leather upper with perforated trim, a rounded toe, and a lace-up fastening. The flat sole adds to their sleek look.
Styling these rust lace-up brogues for men is effortless. For a polished, formal look, pair them with a well-fitted suit in navy or charcoal. To create a smart-casual ensemble, combine them with dark jeans and a crisp white dress shirt. These brogues can also add a touch of sophistication to more relaxed outfits, such as chinos and a blazer.
2.   Dark Brown Perforated Lace Up Brogues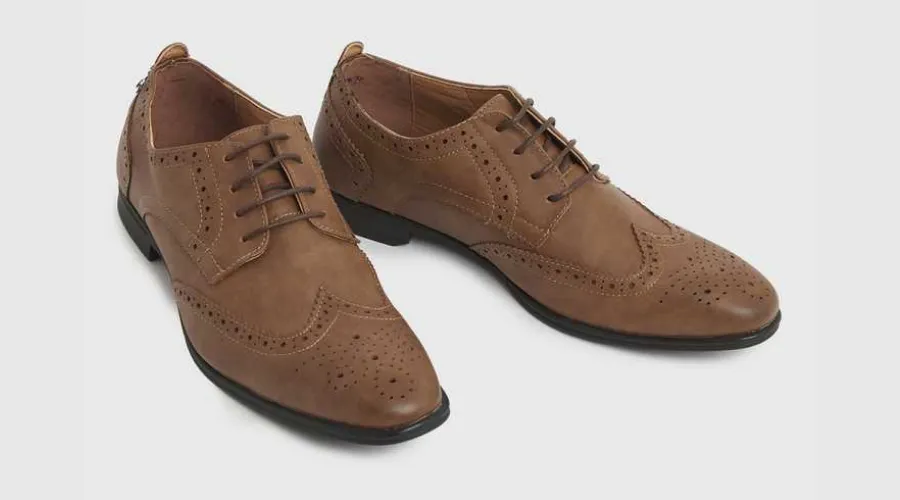 These Classic Brown Brogues for Men have a smooth suede-like texture and decorative perforations which gives them quite a sophisticated appearance. You can easily style them either for a fancy dinner or for a day out. These shoes have a rounded front and a flat sole, so you'll be comfy and look good in them.
These leather brogues for men don't even need maintenance. Just keep them away from dirt and clean any stains or spots with a damp cloth and they will last much longer than you'd expect, making them a great addition to your footwear collection.
Also Read: Get Cozy And Comfortable With These Trendy Beanie Hats 
3.   Black Suedette Perforated Lace Up Brogues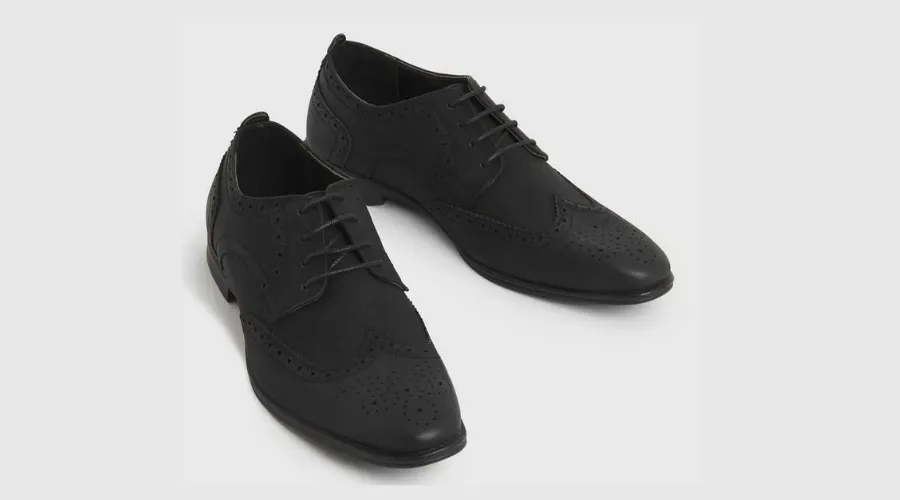 Elegant and timeless, these Black Brogues for men offer a sophisticated suedette finish with delicate perforations. They're the perfect footwear for dressing up, taking you seamlessly from special dinners to stylish race day outings. These brogues boast a rounded toe, a lace-up fastening, and a comfortable flat sole, ensuring you look sharp while staying comfortable.
To make leather brogues stay soft and shiny, use a special conditioner. And if you have suede brogues, a special spray will help them last longer. When you're not wearing your brogues, store them in a cool, dry place.
4.   Jack & Jones Dark Grey Leather Lace Up Brogues
Step up your style with these exclusive Grey Rounded Brogues by Jack & Jones. Crafted from genuine leather, these shoes offer a sophisticated touch to your outfit. They feature a rounded toe and a classic lace-up front, ensuring a timeless and versatile look.
Jack & Jones is already known for their quality products and affordable prices, and these brogues for men available in two colours- grey and brown are a great choice to make. You can choose from various sizes available at New Look's online store.
Conclusion
In conclusion, brogues for men are a timeless and versatile footwear choice. With different types and designs available, finding the perfect pair to suit your individual taste and occasion is a breeze. So, take a look at New Look's website and find the most lavish and cheap brogues for men that complement your fit and personality well enough. For more information, visit Feednexus.
FAQs