As the chilly winter season approaches, it's time to cosy up in style with the best sweatshirts for women in 2023. From trendy designs to classic favourites, this guide will walk you through the top winter sweatshirt trends and styles. 
Whether you are seeking warmth or fashionable options, we have a comprehensive selection of winter women's sweatshirts. When considering the pursuit of contemporary fashion, New Look emerges as the preeminent establishment for enhancing one's winter apparel collection.
Latest Trends for Winter Women's Sweatshirts
Khaki Acid Wash Crew Neck Sweatshirt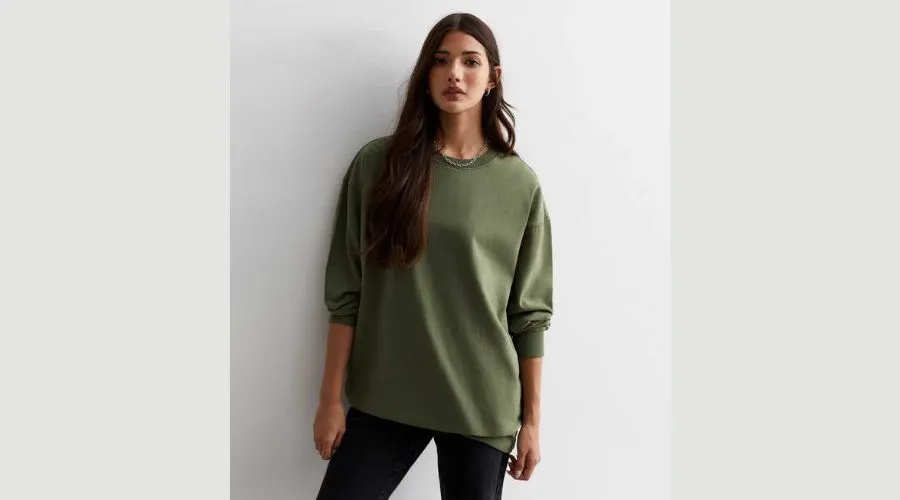 A versatile addition to your layering options, this Khaki Acid Wash Sweatshirt offers effortless style. With a classic crew neckline, long cuffed sleeves, and a cuffed hem, it's designed for comfort and fashion. Crafted from acid-wash cotton blend fabric, this sweatshirt exudes a unique appeal. Its regular fit ensures a perfect blend of style and ease. Pair it with dresses or elevate your casual look with jeans and joggers.
---
    2. Dark Grey Acid Wash Unrivalled Logo Sweatshirt
Upgrade your casual wardrobe with this Grey Logo Sweatshirt featuring a stylish grunge-inspired acid wash finish. The 'Unrivalled' logo adds a trendy touch to this piece. Designed with a comfortable crew neckline, long sleeves, and a soft cotton blend, it offers both style and cosiness. The regular fit ensures an effortlessly fashionable look. Pair it with joggers and chunky trainers for your everyday style.
---
    3. Black Bien Logo Sweatshirt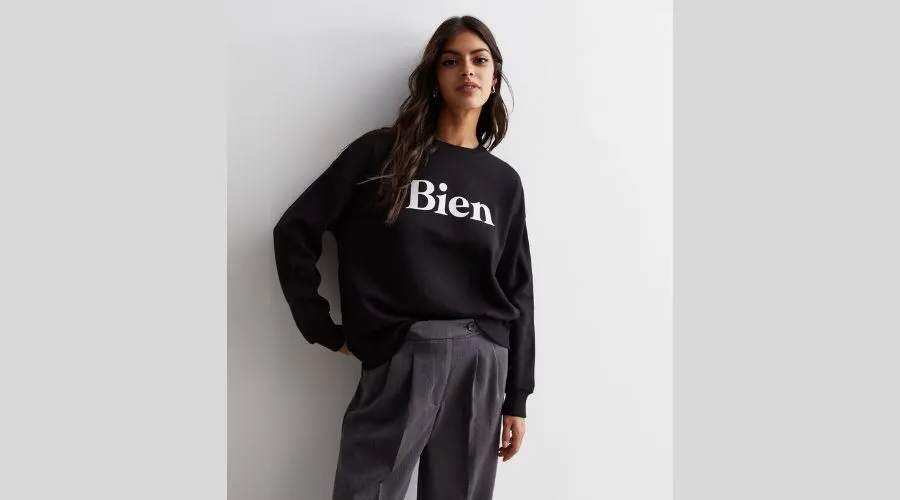 Enhance your casual wear with a touch of French chic in this Black Logo Sweatshirt. The 'Bien' logo adds a stylish flair to the piece, while the soft cotton blend ensures exceptional comfort. With a crew neckline, long sleeves, and a regular fit, it's perfect for off-duty style. Pair it with tailored trousers, white trainers, and a trench coat to stay cosy and fashionable.
---
    4. Skinnydip Cream Disney Minnie Mouse Logo Sweatshirt
Add a touch of nostalgia and style to your casualwear with this adorable Minnie Mouse sweatshirt from Skinnydip. It features a charming 'Minnie Mouse' logo, a comfortable crew neckline, long sleeves, and ribbed cuffs, collar, and hemline. Crafted from a cosy cotton blend, this sweatshirt offers a regular fit for a classic look.
---
    5. Camel Jersey Crew Neck Sweatshirt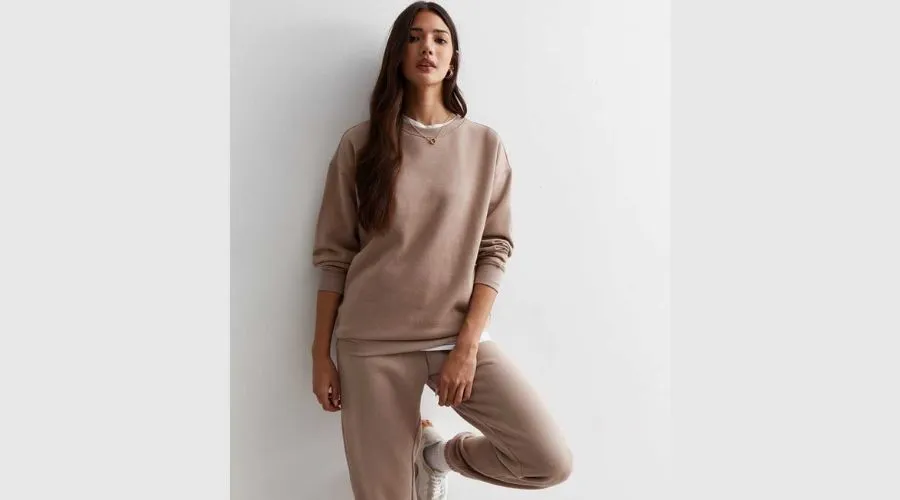 Crafted from a soft and cosy jersey fabric, this Camel Jersey Crew Neck Sweatshirt combines comfort with style effortlessly. The crew neck design offers a classic and versatile look that pairs well with various outfits. With its warm camel colour, it's perfect for both layering during the cooler months or as a standalone statement piece.
---
How to Style Winter Women's Sweatshirts?
Winter women's sweatshirts are a versatile and cosy addition to your wardrobe. They can be styled for various occasions with these tips:
Pair your sweatshirt with jeans, leggings, sneakers, or boots. Add a scarf and hat for extra warmth.
Elevate your sweatshirt with a skirt, dress pants, heels, or ankle boots. Statement accessories like a necklace or earrings can add elegance.
Combine your sweatshirt with a blazer, cardigan, slacks, or a skirt. Finish with flats or heels for a professional touch.
Outfit Ideas
Edgy: Black oversized sweatshirt, ripped jeans, and white sneakers.

Chic: Gray crewneck sweatshirt, midi skirt, and black tights.

Professional: White hoodie, blazer, and slacks.

Sporty: Graphic sweatshirt, leggings, and sneakers.

Trendy: Cropped sweatshirt, high-waisted skirt, and boots.
Don't forget to accessorise, experiment with proportions, add a pop of colour, and have fun with your winter sweatshirt styling! It's a perfect way to stay stylish and warm with these elegant winter women's sweatshirts during the season.
Where to Buy Winter Women's Sweatshirts?
New Look enjoys a reputable status as a trusted brand and is acclaimed for its exceptional customer service. When you choose New Look, you can be confident that you're investing in a high-quality product, backed by a brand committed to customer satisfaction.
The brand stands out as an excellent choice for purchasing winter women's sweatshirts for several compelling reasons:
Wide Variety
New Look boasts an extensive selection of winter women's sweatshirts, catering to different styles, colours, and sizes. This ensures that you'll discover the perfect sweatshirt to match your preferences.
Affordable Prices
New Look's winter women's sweatshirts are attractively priced, making them a budget-friendly option compared to other brands. You can easily find cheap winter sweatshirts at New Look. 
High Quality
New Look prioritises quality, crafting warm sweatshirts for winter from top-notch materials and robust construction, ensuring their longevity over several seasons.
Trendy Styles
New Look keeps its sweatshirt range up-to-date with the latest fashion trends. This ensures that you'll not only be comfortable but also stylish in your choice.
Convenient Shopping
Whether you prefer online or in-store shopping, New Look accommodates both options, providing ease and convenience in finding your ideal winter sweatshirt.
Conclusion
Don't let the winter blues hamper your winter style. Embrace the cold with confidence by choosing the best winter women's sweatshirts for 2023. From oversized and comfy to chic and stylish, the options are endless.
And for the fashion-savvy women out there, New Look offers a fantastic selection of the latest winter sweatshirts that are sure to keep you both warm and on-trend throughout the season. Stay cosy and fashionable this winter with the perfect sweatshirt from New Look. For more information, visit FeedNexus. 
FAQs