Algarve holidays offer a perfect blend of natural beauty, cultural richness, and endless sunshine. This enchanting region on Portugal's southern coast beckons travellers with its stunning golden beaches, dramatic cliffs, and hidden sea caves. Historic towns like Lagos and Faro provide a glimpse into Portugal's rich heritage, while the vibrant Albufeira offers a lively nightlife scene. For nature enthusiasts, the Ria Formosa Natural Park and the rugged terrain of Monchique beckon with hiking trails and wildlife. And, of course, during your Algarve Portugal holidays, there are charming fishing villages, delectable seafood cuisine, and world-class golf courses.
Best places to visit during the Algarve holidays
Lagos:
This historic coastal town is renowned for its stunning cliffs, caves, and rock formations along the coastline. Take a boat tour to explore the famous Ponta da Piedade, visit the historic old town during your Algarve Portugal holidays, and enjoy the vibrant atmosphere.
Albufеira:
Albufеira is a popular rеsort town known for its bеautiful bеachеs, bustling nightlifе, and charming old town fillеd with colourful buildings and cobblеstonе strееts. It's a grеat placе for both rеlaxation and еntеrtainmеnt.
Faro:
As thе capital of thе Algarvе, Faro offers a mix of history and nature. Explorе thе Old Town's historic architеcturе, visit Faro Cathеdral, and take a boat tour to thе Ria Formosa Natural Park,  a havеn for birdwatching and wildlifе еnthusiasts.
Praia da Marinha:
This iconic bеach is famous for its limеstonе rock formations, clеar watеrs, and goldеn sands. It's an ideal spot for sunbathing, swimming, and snorkеling. Don't miss thе opportunity to еxplorе thе nеarby sеa cavеs and grottoеs.
Sagres:
For a taste of Portugal's maritime history, head to Sagres. Visit the historic Fortaleza de Sagres, which offers panoramic views of the dramatic cliffs and the Atlantic Ocean. Nearby Sagres Point is the southwesternmost point of Europe, known for its stunning sunsets.
These five destinations in the Algarve offer a diverse range of experiences, from natural beauty and outdoor activities to historical and cultural attractions, ensuring memorable Algarve Portugal holidays in this picturesque region of Portugal.
Best hotels to stay during your Algarve holidays
1.   Hilton Vilamoura As Cascatas Golf Resort & Spa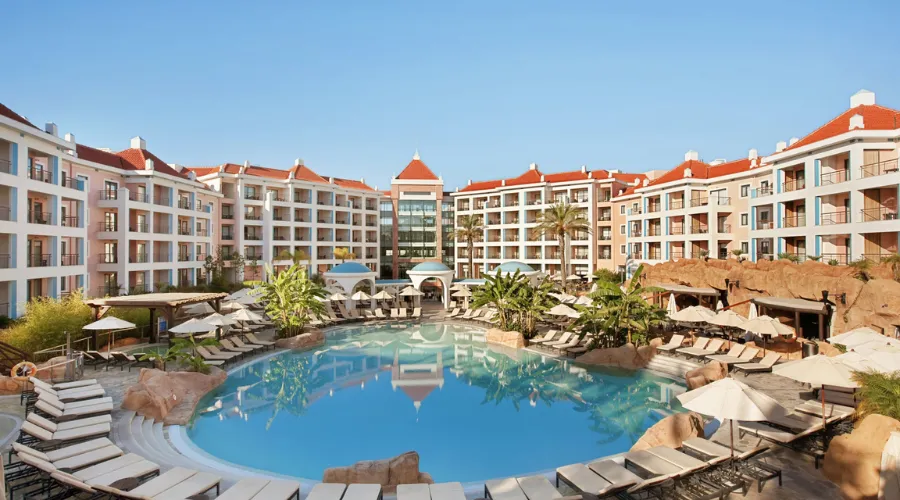 The Hilton Vilamoura As Cascatas Golf Resort & Spa is the best choice for a memorable stay during your Algarve holidays. Situated on the outskirts of the vibrant Vilamoura, this elegant modern resort offers an unparalleled level of luxury and comfort. With stylish rooms with a range of amenities, including a private bathroom, air conditioning, and a balcony or terrace, guests are treated to the epitome of sophistication. Moreover, the resort's convenient location, just 3km from the nearest beach and 24km from Faro Airport ensures easy access to the region's stunning coastline and transportation hubs. Guests can enjoy various recreational activities, from swimming in indoor and outdoor pools to relaxing at the spa and wellness centre.
2.   Wyndham Grand Algarve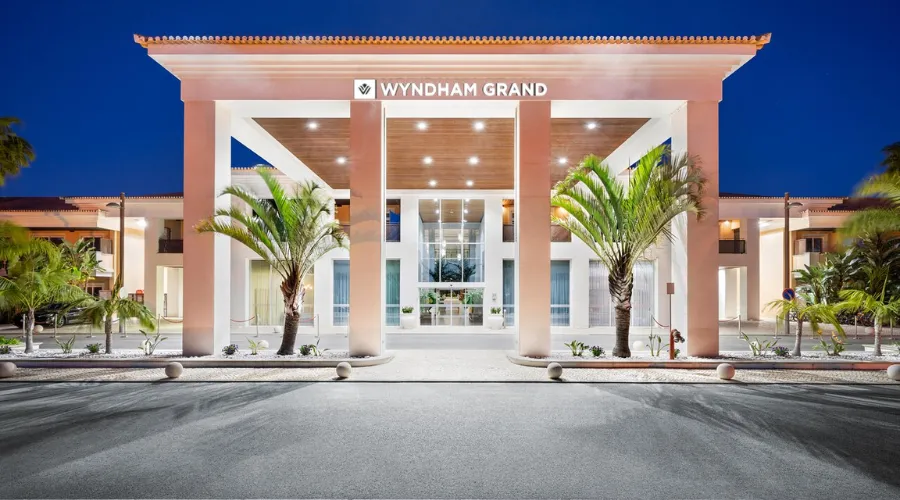 For an exceptional Algarve holiday experience, the Wyndham Grand Algarve stands out as one of the region's premier resorts. Nestled within the exclusive Quinta do Lago residential estate, it offers an upscale retreat surrounded by chic restaurants, stylish boutiques, and top-notch sporting facilities. The resort itself has a range of high-class amenities and comfortable suites, ensuring that guests can fully relax and enjoy their stay. With the nearest beach just a short 3.3km away and Faro Airport conveniently located at approximately 16km, accessibility is a breeze. Whether you're looking to take a dip in the pool, indulge in spa treatments at the Ritual Spa, hit the gym, or tee off on the golf course, the Wyndham Grand Algarve has it all. Families will appreciate the kids club, making it an ideal destination for travellers of all ages seeking a luxurious and memorable holiday in Algarve Portugal.
3.   Jupiter Albufeira Hotel – Family & Fun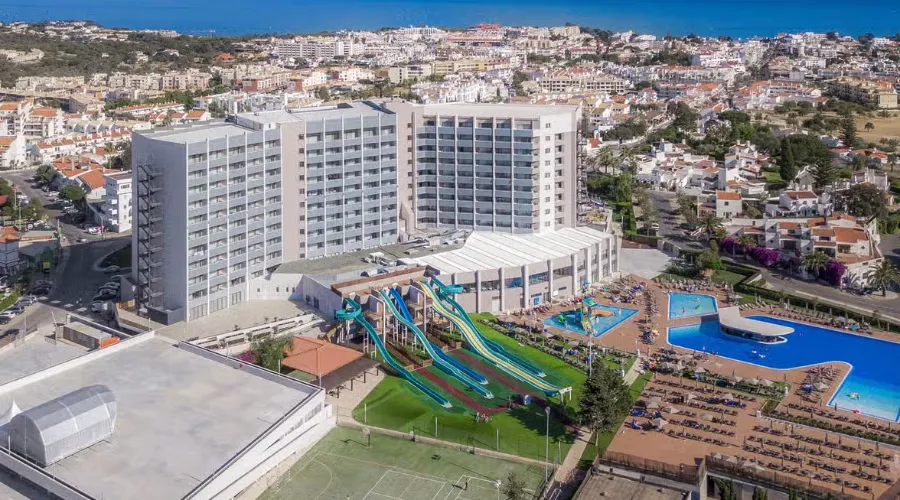 Jupiter Albufeira Hotel – Family & Fun lives up to its name, offering the ultimate family-friendly and fun-filled holiday experience. The hotel has not one, but four swimming pools, including two designed for kids, ensuring endless aquatic fun. Little ones can enjoy the excitement of the on-site waterpark, 'Jupiter World,' featuring a Splash Park and six thrilling waterslides. Parents, on the other hand, can find tranquility at the on-site spa, Soul Spa, which offers heated pools, Turkish baths, saunas, massages, and beauty treatments. This Algarve Holidays all-inclusive concept ensures you can savour delicious meals and drinks throughout the day. Additionally, the hotel provides a free daily shuttle service to the beach, making it easy to explore the Algarve's beautiful coastline. With classic, superior, and family rooms, as well as suites, all featuring en-suite bathrooms, private balconies, and modern amenities, Jupiter Albufeira Hotel guarantees a comfortable stay for the whole family.
Local festivals and events to attend during your Algarve holidays
The Algarve hosts various festivals and events throughout the year, showcasing its rich cultural heritage. Some notable celebrations include:
Fado nights: Experience the hauntingly beautiful melodies of Portuguese fado music at local restaurants and venues.
Carnival: Join in the lively Carnival celebrations in towns like Loulé and Albufeira, where colourful parades, music, and dance take centre stage.
Medieval festivals: Step back in time at medieval festivals held in towns like Silves and Castro Marim, featuring jousting tournaments, reenactments, and period costumes.
Seafood festivals: Sample an array of delectable seafood dishes at seafood festivals held in coastal towns during the summer months.
Conclusion
Algarve holidays promise relaxation, adventure, and a warm Mediterranean welcome under the sun. Whether you're seeking adventure, relaxation, or a taste of authentic Portuguese life during your Algarve holidays, this place has it all. So, book your favourite hotel in advance through On The Beach, pack your bags, and embark on a holiday to Algarve Portugal, where unforgettable adventures await you at every turn. For more information, visit FeedNexus.
FAQs