Get ready for sweet dreams with girls' pyjama sets. These comfy and cute sleepwear collections are all about making bedtime cosy and fun. From playful designs to snuggly fabrics, they're perfect for a good night's sleep. Whether your little one loves animals, superheroes, or simple patterns, you'll find the ideal pyjama set to make bedtime special.
Materials to Look for in Girls' Pyjama Sets
1.   Cotton
Cotton pyjamas are breathable and comfortable, making them an excellent choice for most seasons. They are soft and gentle on the skin, minimising the risk of irritation.
2.   Flannel
Flannel girls'  pyjama sets are perfect for cooler nights. They are warm and cosy, often featuring cute patterns that girls love.
3.   Fleece
Fleece pyjamas are ideal for cold winters. They are soft, and plush, and provide excellent insulation to keep your child warm.
4.   Polyester
Polyester pyjamas are lightweight, durable, and can be found in various designs. They are easy to care for and often affordable.
5.   Silk
Silk pyjamas are luxurious and soft on the skin. They are perfect for special occasions but may not be as durable as other materials.
6.   Modal
Modal is a type of rayon fabric that is soft and breathable. It offers comfort similar to cotton and is an excellent choice for sensitive skin.
Size and Fit Guide
1.   Know Your Measurements
Take accurate measurements of your child's height, chest, waist, hips, and inseam. Keep these measurements handy when shopping for pyjamas.
2.   Check the Sizing Guide Online
Most clothing brands provide a sizing chart that correlates measurements to specific sizes. Refer to the brand's chart to find the right size for your child.
3.   Consider Room for Growth
Kids grow quickly, so it's often a good idea to choose slightly larger pyjamas. A bit of room to grow ensures that the pyjamas will last longer before they become too small.
4.   Pay Attention to Lengths
Check the length of the pyjama top and pants. They should be long enough to cover your child comfortably but not so long that they pose a tripping hazard.
5.   Consider Fit Style
Pyjama sets come in various styles, including snug-fitting and loose-fitting. Snug-fitting pyjamas are close to the body, while loose-fitting ones provide more room to move. Choose the style that your child finds most comfortable.
6.   Keep Comfort in Mind
Regardless of size, prioritise comfort. Ensure that the pyjamas allow your child to move freely and don't have any scratchy seams or tags that can cause discomfort.
Also Read: Sunglasses For Men: Shielding Your Eyes In Stylish Elegance
Cute and Cosy Designs and Patterns
1.   Animal Themes
Pyjamas featuring adorable animals like pandas, cats, dogs, or unicorns are a favourite among young girls. These designs add a playful and whimsical touch to bedtime.
2.   Cartoon Characters
Many girls love pyjamas adorned with their beloved cartoon characters, whether it's Disney princesses, superheroes, or classic animated figures.
3.   Polka Dots
Polka dot patterns are timeless and come in various colour combinations. They add a touch of sweetness to pyjamas.
4.   Stripes
Striped pyjamas offer a classic and nautical look, making them a favourite for girls of all ages. Stripes can be bold or subtle, depending on the design.
5.   Floral Prints
Floral patterns bring a touch of femininity to pyjama sets. They come in various flower designs and colour palettes.
6.   Hearts
Heart-themed girls' pyjama sets are perfect for expressing love and affection. Hearts can be large and colourful or small and dainty.
7.   Seasonal Designs
Pyjamas often feature seasonal designs for holidays like Christmas, Halloween, or Valentine's Day, adding a festive touch to bedtime.
8.   Nature and Scenery
Pyjamas with nature-themed designs, such as stars, moons, or galaxies, can create a dreamy bedtime atmosphere.
girls' Pyjama Sets for All Ages
1.   Girls Light Grey Jogger Pyjama Set with Heart Print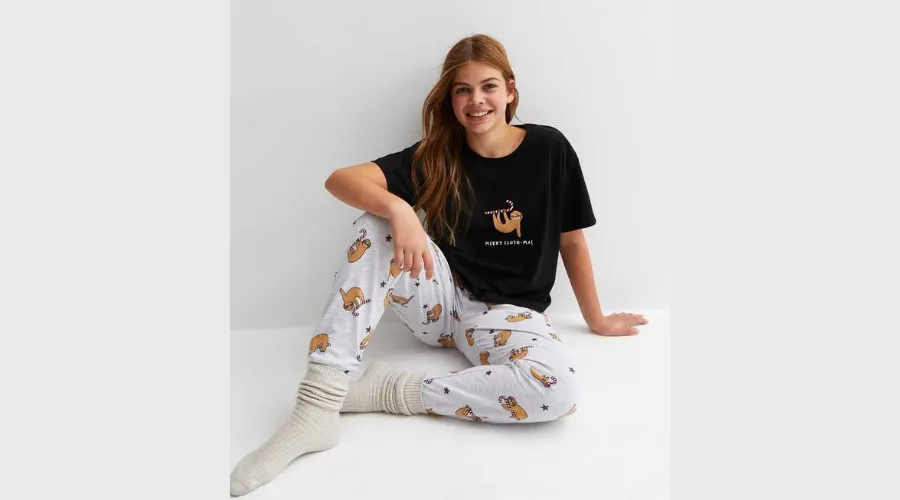 Here's a Girls' pyjama set that little princesses are going to adore! The Light Grey Set with Heart Prints all over, makes it a very cute find. The top has a comfy crew neckline, long sleeves, and soft fabric to keep you cosy. The matching bottoms with an elastic waist, cuffed legs, and the same soft fabric make this set perfect for sleepovers and relaxing days. Get both style and comfort in one fit!
2.   Popgear Grey Short Sleeve Pyjama Set with Minnie Mouse Print
Girls discover pyjama perfection with Popgear in this Grey Girls' Pyjama Set. The T-shirt features a Minnie Mouse print, a comfortable crew neckline, short sleeves, and soft cotton fabric for a regular fit. The trousers include the Minnie Mouse logo, a high waist, soft cotton fabric, and a regular fit for a cosy and stylish sleep. You can purchase this cotton girls' pyjama set from New Look for a cost of £19.99.
3.   Girls White Jogger Pyjama Set with Panda Print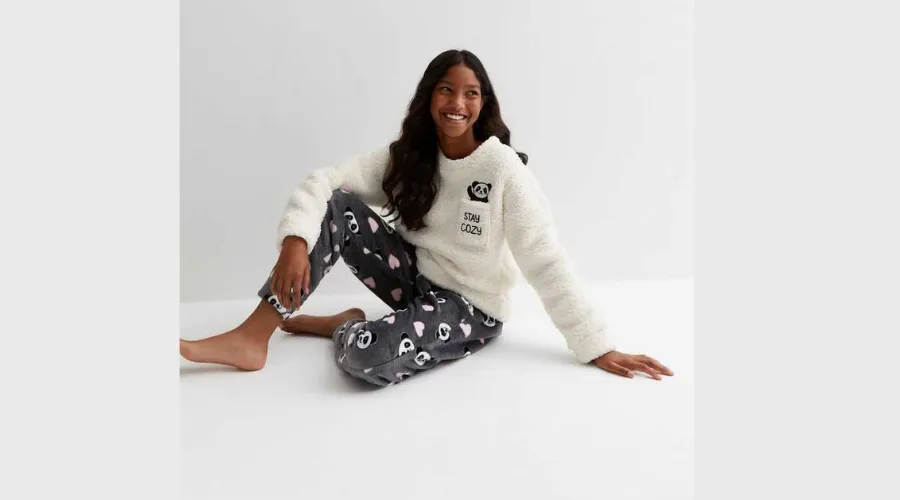 For girls, this adorable Jogger Girls' Pyjama Set is a cosy essential for your autumn and winter sleepwear collection. It's made from soft borg fabric and features a cute panda print. The top includes a Stay cosy logo, a crew neckline, long sleeves, and a front pocket, all in a relaxed fit. The matching bottoms have an elasticated waist and a full-length design, with the same panda print and soft borg fabric in a regular fit. It's perfect for staying snug and stylish during the colder seasons.
4.   Girls Red Leggings Pyjama Set with Fair Isle Print
For girls, a festive look is all about the charming fair isle pattern. This Red Leggings Girls' Pyjama Set is perfect for cosy autumn and winter nights, especially by the fire. You can enhance your Christmas style by layering it over a cotton dressing gown and slipping on some fluffy socks. The top features a crew neckline, long sleeves, and soft woven fabric with a slim fit. The matching leggings have a high waist, the same delightful fair isle pattern, soft fabric, and a slim fit for extra comfort.
5.   Girls Black Jogger Pyjama with Merry Sloth-Mas Logo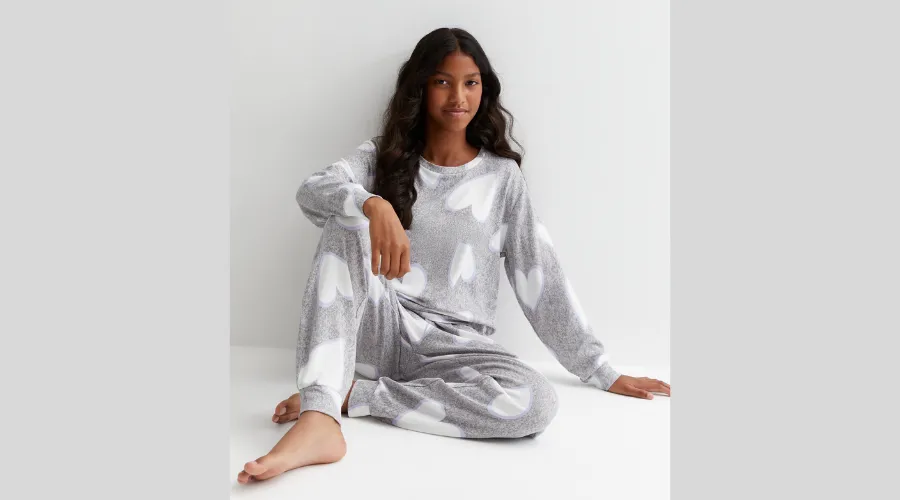 Meet the ideal Christmas Girls' Pyjama Set you'll never want to take off: these festive sloth-themed jogger pyjamas. The top includes a 'Merry Sloth-mas' logo, a comfy crew neckline, short sleeves, and soft cotton fabric. It's designed for a regular fit. The bottoms feature a charming sloth pattern, an elasticated waist, full-length legs with cuffed ends, and a soft cotton blend, also in a regular fit. This set ensures warmth and comfort for a joyful holiday season.
Conclusion
Staying comfortable and cosy while sleeping is great for having a peaceful good night. And with New Look's girls' pyjama sets collection, you can quickly choose the softest night suits to add to your wardrobe. So, if you want your little or big girl to sleep properly, trying these pyjama sets will only bring them comfort. For more information, visit Feednexus.
FAQs