Situated alongside the sun-drenched Mediterranean coastline, Marbella is one of the best beachy places to visit in Spain. The place is a mixture of amazing history and captivating natural surroundings, along with its sandy clear water beaches. The city has become one of the most visited destinations because of its yummy food and relaxing, peaceful environment. If you are thinking of planning for the Marbella holidays, On The Beach offers amazing deals and packages that you should surely look into.
Must-visit beaches in Marbella 
1. Playa de la Fontanilla
If you are looking for a quiet, less-crowded place to take your kids, this Playa de la Fontanilla beach is perfect to explore. The place comes with sandy-clear waters and has many beachfront restaurants and bars for grabbing some delicious bites.
2. Nikki Beach
Known for its glamorous atmosphere, Nikki Beach is one of the top places for lavish travellers. The beach houses various clubs that play live music and host a vibrant ambiance, making it a must-visit place for everyone looking for a good time.
3. Puerto Banus Beach
Located near the famous marina, Puerto Banús Beach offers a blend of upscale amenities and a lively atmosphere. It's great for people-watching, enjoying beachfront cafes, and indulging in water sports.
4. Playa de Venus
Playa de Venus beach which is located near Marbella's Old Town, is another gem of a place to visit. The beach is very famous among both locals and tourists alike as it features many beachfront bars and a variety of water activities to try on.
5. Artola Beach
Known for its natural sand dunes and scenic beauty, Artola Beach is a protected area with fine sands and crystal-clear waters. It's an excellent choice for nature enthusiasts and those seeking a quieter beach experience.
6. Linda Vista Beach
Linda Vista Beach is favoured for its cleanliness, wider shoreline, and amazing facilities. It's suitable for families, offering safe swimming conditions and nearby restaurants for a delightful beach day experience.
---
Adventurous activities and excursions to take on in Marbella
1. Water sports
When planning for the Marbella holidays, don't forget to try your hands on the thrilling water-based adventures. There are so many activities to try like jet skiing, windsurfing, paddleboarding, or parasailing along the coastline.
2. Scuba diving
Explore the underwater world of Marbella with scuba diving excursions. Discover colourful marine life, underwater caves, and even shipwrecks in the clear waters.
3. Hiking
Just a short drive from Marbella, the Sierra Blanca Mountains offer excellent hiking trails with breathtaking views. The iconic La Concha mountain is a popular choice for hikers.
4. Mountain biking
Rent a mountain bike and explore the rugged terrain of the Marbella countryside. There are numerous trails suitable for various skill levels beginners and experts alike.
5. Off-road adventures
You can join a guided off-road tour in Marbella to explore the region's natural beauty which includes visiting remote villages, secret waterfalls, and various scenic points that will take your breath away.
6. Horseback riding
Discover Marbella's beauty on horseback with guided rides through the countryside, along the beach, or into the mountains.
7. Sailing and yachting
Charter a yacht or join a sailing excursion to explore the Mediterranean waters, visit secluded coves, and enjoy a day at sea.
---
Top hotels for splendid Marbella holidays
1. Puente Romano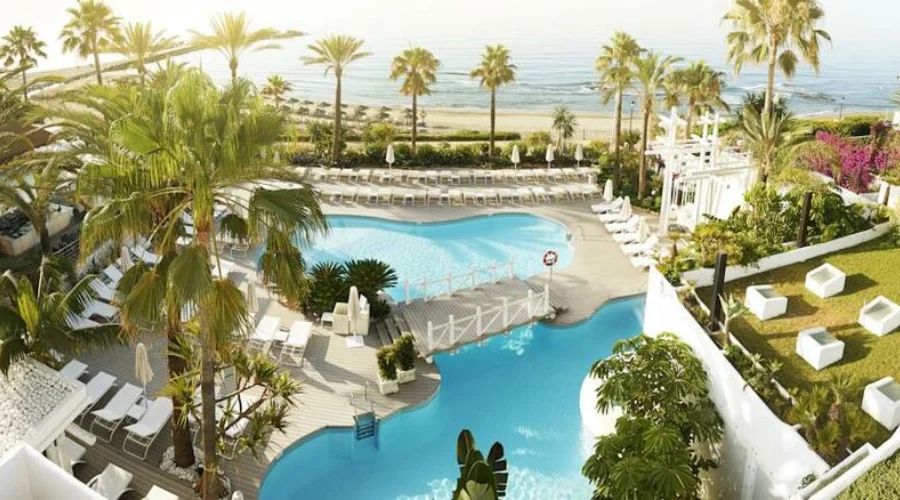 The Puente Romano Marbella is one of the most lavish hotels in Marbella for travellers with a good budget to stay. The hotel is close to the city centre which makes it easier for guests to explore the city's local culture and restaurants and can even do shopping to take home some souvenirs. The hotel is right on the beachfront, so you can sit and relax on the beach whenever you like. So, if you are someone looking for all-inclusive holidays to Marbella, this is the hotel to book from On The Beach's website. 
---
2. Alanda Hotel Marbella
Alanda Hotel Marbella another amazing hotel is situated right alongside Marbella's renowned Golden Mile. This sophisticated, top-class hotel is known for its exclusive beach club which guests can surely explore if they like. With modern architecture and amazing design, this place is one of the most cleanest and elegant places for a healthy and fun vacation. For those looking for the best Marbella holidays packages, this hotel deal holds various amenities along with flights included.
---
3. Amare Marbella Beach Hotel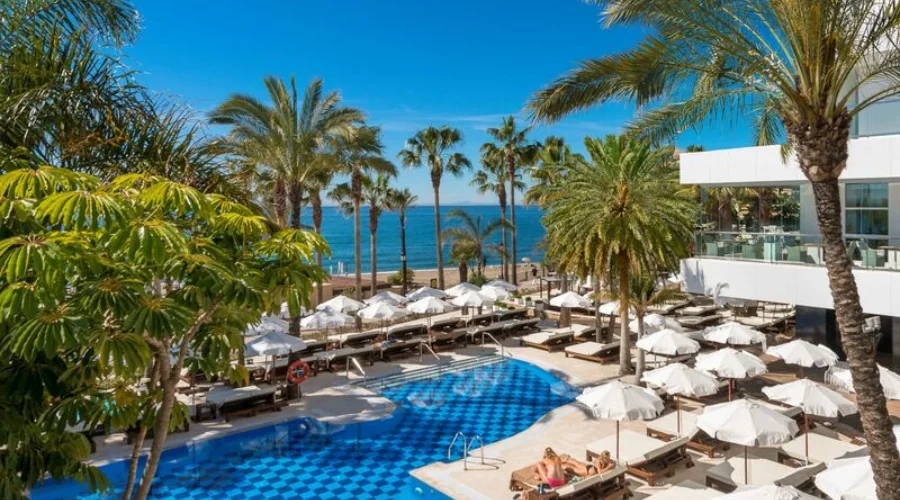 For those looking for cheap holidays in Marbella, Amara Marbella Beach Hotel is the best place to book as it offers an amazing beachfront staycation experience. The hotel comes with a Michelin-starred restaurant where you can try their delicious local and international food items and the hotel is situated near the city centre, so you can easily explore the city whenever you like. So, book your Marbella holidays from On The Beach right away and get amazing deals and packages to save money. 
---
4. Monarque Sultan
The Monarque Sultan is a top-rated 4-star hotel which is located at the foot of the Sierra Blanca mountains in Marbella, Spain. The place is situated on the famous Golden Mile lane, making it much easier for guests to visit the beach or explore the city anytime they like as it is just a walking distance. Guests can also relax at the hotel and avail of its various relaxing services like enjoying a soothing spa session or tasting the yummy food at the hotel's restaurant.
Conclusion
For those planning Marbella holidays as their next vacation, On The Beach offers the best flight-inclusive hotel packages that customers can opt for. This way, the only thing people would have to worry about is having an amazing time and finding things to do in the beautiful city of Spain. So, visit the website, check your dates, and book those deals right away for a relaxing vacation in Marbella. For more information on the Marbella holidays, visit FeedNexus.
FAQs