People who have sensitive skin may find that shaving presents a number of challenges. An irritation of any degree can result in discomfort, redness, and even outbreaks in some people. 
Finding a shaving solution that is appropriate for those with sensitive skin might be difficult for many people. Shaving oil, on the other hand, is a solution to this problem. People who have sensitive skin may want to consider using shaving oil instead of regular shaving cream because it offers a number of advantages that are not provided by the latter. 
Learn about the revolutionary benefits that using shaving oil can bring to your grooming regimen. This blog goes into the reasons why shaving oil should be an essential addition to your routine, revealing the benefits that it offers for a shaving experience that is smoother and causes less irritation. 
Explore the best solutions available on the market that can accommodate a variety of preferences in order to carry out an efficient and streamlined grooming routine.
Why shaving oil a must-have in your grooming routine?
Enhanced Protection
Shaving oil forms a protective buffer between the skin and the razor, curbing razor burns, cuts, and nicks – common discomforts among sensitive skin types. It also promotes a smoother razor glide, curbing the risk of irritation.
2. Skin Moisturization
Engineered to be lightweight and non-greasy, shaving oil quickly absorbs into the skin, ensuring post-shave hydration. This is especially crucial for sensitive skin, as it helps counteract dryness and speed recovery from shaving-related damage.
3. Reduced Ingrown Hairs
Sensitive skin often grapples with ingrown hairs. Shaving oil diminishes this concern by softening hair and making it easier to cut while concurrently reducing friction between the razor and skin – a double defense against ingrown hairs.
4. Natural Components 
In contrast to harsh chemicals in many shaving products, shaving oil often features natural ingredients like essential oils. These gentler elements not only offer a pleasant scent but also deliver therapeutic benefits, such as soothing inflammation and aiding healing.
5. Cost Efficiency 
Shaving oil proves cost-effective compared to traditional creams and gels. Its small quantity usage covers a substantial skin area. Less product is needed per shave, extending its longevity and reducing the need for frequent repurchases.
Integrating shaving oil into your routine paves the way for a comfortable, irritation-free shave while catering to the sensitivities of your skin.
Top options available for shaving oil
1. American Crew Shaving Skin Care Ultra Gliding Shave Oil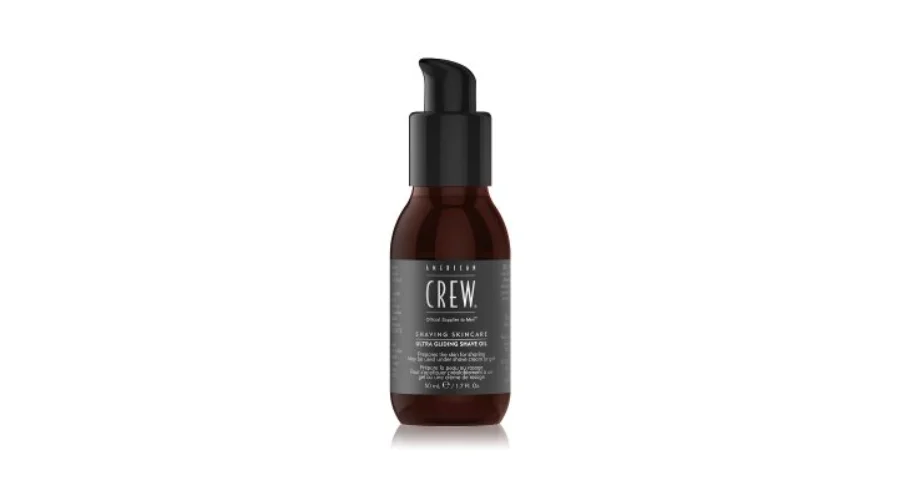 The product prepares the skin for shaving, suitable for use under shaving cream or gel. It softens beard hair and primes the skin for a close and comfortable shave, leaving no greasy residue.
Formulated with botanical ingredients and essential oils, it's versatile for all beard types.

Benefits include preventing shaving irritation, ensuring smooth, moisturized skin, featuring antioxidants for anti-aging, and providing antimicrobial properties.

Apply under Moisturizing Shave Cream, Precision Shave Gel, or Protective Shave Foam for beard softening, particularly effective for neck shaving.

Elevate the shaving routine with this product, setting the stage for a comfortable and irritation-free shave.




---
2. Australian body care Shave oil
A refined shaving experience is offered by this Australian Body Care shaving oil, which is supplemented with tea tree oil as well as other natural oils. This ensures a smooth and even outcome following the use of razor blades or a razor to remove hair. 
Following a shave with the Shave Oil, your skin will have the appearance of being healthy and radiant because of its unique composition, which includes coconut oil, almond oil, and sunflower oil. 

The Shaving Oil does an excellent job of preserving a delicate equilibrium; it does not leave behind a greasy residue, and it does not make the skin feel heavy. Instead, it gives the skin a feeling that is lightweight and non-greasy, leaving the skin feeling soft and presenting a natural brightness after use. 

The versatility of the Shaving Oil is highlighted by the fact that it is appropriate for everyday usage all over the body. As a result, it is a great option for men and women alike who are looking for a close and smooth shave. 

In addition to guaranteeing a successful shaving experience, it also addresses typical skin difficulties such as ingrown hairs and red bumps caused by razors.




---
3. Brooklyn Soap Company Castor Oil & Menthol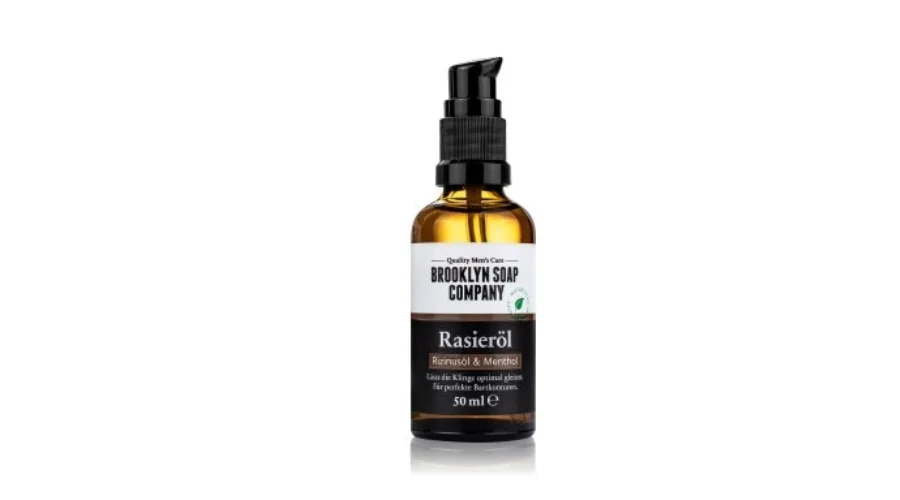 The high-quality castor oil will leave behind an oil film that is transparent and uniform on the surface of the skin. This will enable the razor to move smoothly across the surface of the skin, resulting in a close and comfortable shave that can be achieved on the beard as well as the contours of the face.
The infusion of menthol into the oil imparts a clean aroma and a calming sensation, both of which contribute to an improved overall shaving experience

Because of its relaxing effects, shaving with lavender makes for a more enjoyable experience overall.

The presence of rosemary has the effect of "refining" the complexion, which contributes to an improved appearance after shaving.

This shaving oil can be used in place of shaving foam, providing greater versatility and improving the overall shaving experience.




---
Conclusion
Shaving with shaving oil for men is a game-changer since it provides a closer, more comfortable shave while reducing the risk of razor burn and other skin irritations. 
You may improve your shaving practice and enjoy a hassle-free experience that leaves your skin feeling refreshed and invigorated owing to the availability of a variety of solutions that are of the highest possible quality.
Furthermore, if you are looking for shaving oil for your face, then you must visit the online store of Flaconi. Their product range is extensive and their prices are competitive. Besides, for more such related blogs, visit our website Feednexus. 
FAQs