Introducing the classic and versatile wrap dress for women. This timeless wardrobe staple is loved for its flattering fit and adaptability for various occasions. And, if you are looking to purchase the most elegant-looking wrap dress for women, New Look is a great store to look out for!
Distinct Styles of Wrap Dress for Women
1. Classic Wrap Dress
This timeless design features a V-neckline, a true wrap-around waist, and a self-tie belt. It's versatile and flattering, suitable for both casual and formal settings.
2. Maxi Wrap Dress
With a longer length that typically flows to the ankles, maxi wrap dresses are perfect for creating an elegant, bohemian look. They're ideal for beach vacations, garden parties, or evening events.
3. Floral Wrap Dress
Embrace a touch of femininity with floral patterns on your wrap dress. Floral wraps are excellent choices for spring and summer, adding a pop of colour and style to your wardrobe.
4. Polka Dot Wrap Dress
Polka dots are a timeless pattern, and when combined with a wrap dress, they exude a sense of vintage charm. These dresses are perfect for a playful and retro look.
5. Wrap Shirt Dress
Blurring the line between a dress and a shirt, this style often features a collared neckline and button-down front. It's a trendy and versatile choice for various occasions.
6. Kimono Wrap Dress
Influenced by Japanese kimono designs, these dresses typically feature wide, draped sleeves and a cinched waist. They offer a unique and eye-catching look.
7. Boho Wrap Dress
With flowing fabrics, earthy tones, and bohemian prints, these wrap dresses capture a free-spirited, boho-chic style. They're great for festivals, beach outings, or casual gatherings.
Choosing the Perfect Wrap Dress for Women According to Their Shape and Style
1. Hourglass Shape
If you have an hourglass figure with balanced bust and hip measurements, opt for wrap dresses that accentuate your waist. Look for styles with a defined waist tie or a wrap dress that allows you to cinch it snugly at the waist. A-line or fit-and-flare silhouettes also work well to enhance your natural curves.
2. Pear Shape
For those with a pear-shaped body, where the hips are wider than the bust, choose wrap dresses that draw attention upward. Look for V-necklines, bold patterns on the upper body, and statement sleeves to create balance. Dresses with flared or A-line skirts will minimize focus on the hips.
3. Apple Shape
Apple-shaped figures typically have a fuller midsection. Opt for wrap dresses that offer support and a cinched waist to create the illusion of an hourglass shape. Choose dresses with a higher waist tie to visually elongate the legs and add definition to the waist.
4. Rectangle Shape
If your bust, waist, and hips are similar in width, you have a rectangular shape. Create curves with wrap dresses that have ruffles, pleats, or a wrap dress with a tie belt that cinches the waist. A wrap dress with a flared skirt can also add volume and enhance your curves.
5. Inverted Triangle Shape
For those with broader shoulders and a narrower waist and hips, consider wrap dresses that emphasize the lower body. Look for A-line or wrap dresses with fuller skirts to create a balanced look. Avoid excessive detailing on the shoulders.
6. Full-Figured
If you have a full-figured body, seek wrap dresses with a sturdy fabric that provides support and structure. Opt for wrap dresses that offer a V-neckline, as it elongate the neckline and slims the upper body. Solid colours or vertical patterns can have a slimming effect.
7. Petite
If you're petite, choose wrap dresses with a shorter hemline to elongate your legs. Opt for dresses with a higher waist tie to create the illusion of longer legs. Avoid overly long or flowy styles, as they can overwhelm your frame.
8. Tall
If you're tall, you have the freedom to choose from various wrap dress styles. Consider maxi wrap dresses for a dramatic look or shorter styles for a casual, everyday appearance. Experiment with different patterns and silhouettes.
9. Plus-Size
Plus-size individuals should opt for wrap dresses with a defined waist and sturdy fabric to provide structure and support. Styles with strategic ruching or drape can enhance your curves while offering a flattering fit.
The Best Wrap Dresses for Women to Buy
1. Apricot Silver Glitter Wrap Bodycon Mini Dress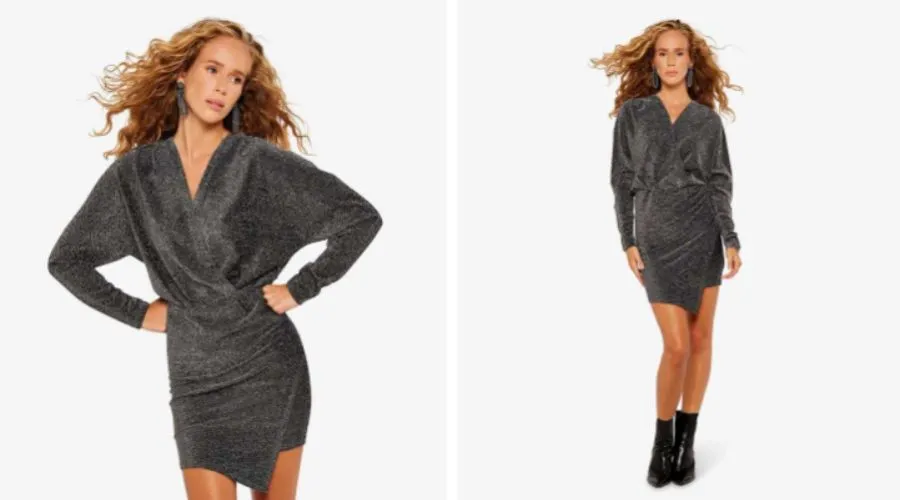 Do you have weekend plans? Opt for this shimmering Silver Mini Dress crafted from dazzling glitter fabric. Its body-hugging silhouette and wrap-front design are incredibly flattering. Pair it with your favourite stilettos and a matching handbag to complete the stylish look. This dress features a V neckline, long sleeves, ruched side detail, and a mini length for a touch of glamour.
---
2. Black Geometric Collared Wrap Mini Dress
Elevate your style with this exclusive Black Mini Dress. It's perfect for those days when you need to go from the office to a night out. The dress features a collared neckline, a unique geometric print, 3/4 sleeves, and a wrap front with a tie side. It's made from soft woven fabric and has a regular fit. Just swap your loafers for stilettos and add a touch of red lipstick for a chic transformation.
---
3. Burgundy High Neck Wrap Mini Dress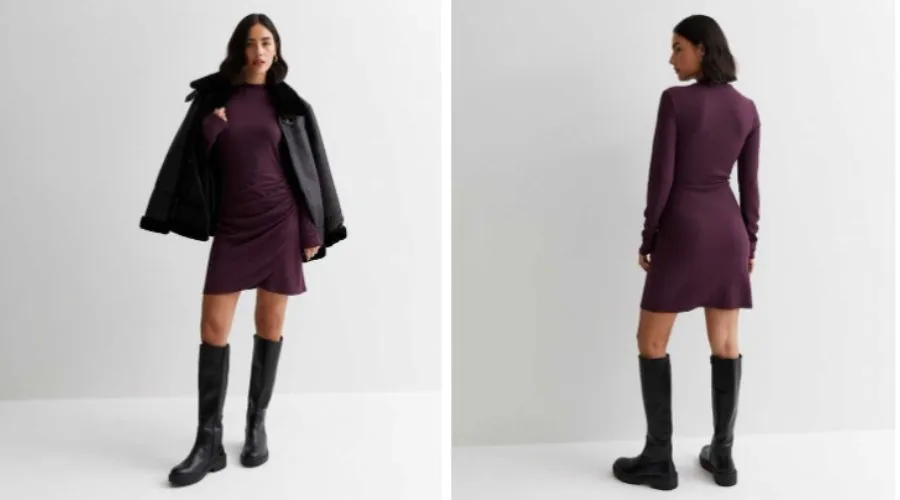 Meet this stylish Burgundy Mini Wrap Dress for women featuring a high neckline, long sleeves, and a trendy wrap-style design. It's crafted from soft woven fabric, making it a comfortable choice for any occasion. Pair it with knee-high boots for a trendy look or open-toe heels for an elegant style, offering versatility in your wardrobe. So, purchase this wrap dress for women from New Look for only a cost £18.
---
4. Gini London Off White Animal Print Midaxi Wrap Dress
Revamp your dress collection with this lovely Off-White Midaxi Wrap Dress for Women from Gini London. It's adorned with a cute animal print and has short ruffled sleeves. You can wear it with chunky trainers for casual days or dress it up with heels for special occasions. This dress features a V neckline, a wrap front, a tie waist, and a midaxi length in soft woven fabric for a comfy and stylish fit.
---
5. Red Snake Print Satin Wrap Midi Dress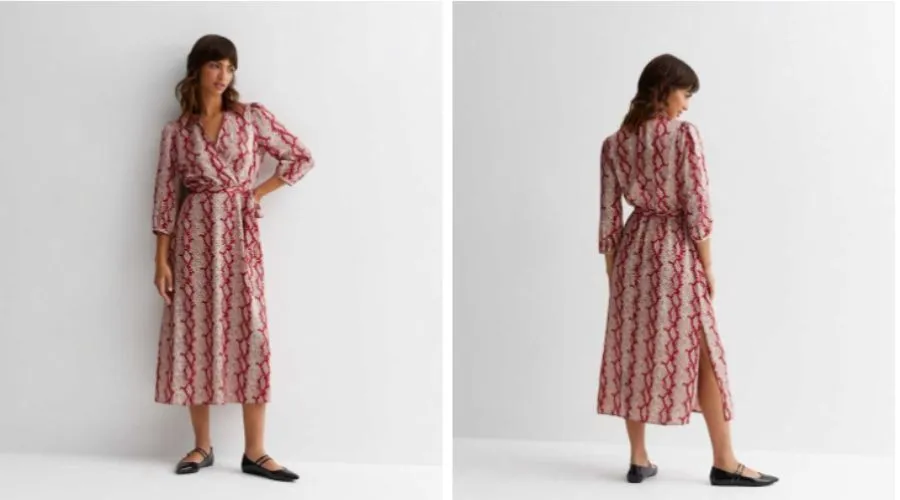 This striking Red Snake Print Midi Wrap Dress for women is a showstopper, from its chic satin finish to its bold snake print. Perfect for a memorable date night or a fun evening with friends, this dress features a collared neckline, 3/4 sleeves, a flattering wrap front, a tie waist, and a midi-length skirt. Crafted from soft satin fabric, it offers a comfortable fit-and-flare design. Elevate your style with heeled boots and a clutch bag to add a touch of evening glamour to your look.
Also read – Explore The Versatility And Convenience Of These Skort for Girls!
---
Conclusion
If you are looking for some of the most amazing and affordable wrap dresses to add to your wardrobe, New Look is the best place to explore. From satin to woollen, you'll find the perfect size and designed wrap dress for women at pretty reasonable prices. For more information, visit Feenexus.
FAQs